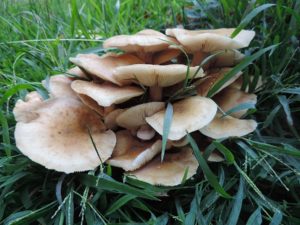 Would you believe it?  An extremely parasitic wild mushroom found all over the temperate regions of the world may hold value in treating one of the deadliest forms of cancer.
A brand new study looked at the honey mushroom's role in killing liver cancer cells.  Specifically, an extract known as armillarikin was shown to induce apoptosis (essentially "cell suicide") in hepatocellular carcinoma cells.  The results from this study were just published in the journal OncoTargets and Therapy (1).
Hepatocellular carcinoma is one of the deadliest forms of cancer, associated with a relatively low 1-year survival rate and less than 10% 5-year survival rate.  Current aggressive therapies include surgical treatment, chemotherapy, radiation therapy, and targeted therapy with multiple drugs.
Honey mushrooms (Armillaria mellea) are frequently found with ease during the autumn months in Pennsylvania.  You can often bring home several pounds at a time, returning week after week to familiar spots and continuing your harvest.  Of course, "more research" will need to be done on armillarikin's role in treating liver cancer, though it's nice to read that this compound may be considered
"a potential candidate for further development as a therapy or adjuvant treatment for HCC."
Also, it's worth noting that armillarikin, as stated in this study, has been studied for its anti-cancerous effects against leukemia, lung, and colon cancers.  Additionally, the scientific literature abounds with studies on hundreds of other wild mushroom species and their roles in treating various cancers.
If you haven't made peace with our wild fungal friends, now is as good of a time as ever!  To learn more about honey mushrooms, and to differentiate them between toxic look-alikes, check out this video: